Automated Extraction of Key Discussion Points and Q&A Generation from Seminar Videos, Integrated with AI-driven Speech Dialog App "iRolePlay"
- Enabling Real-time Integration for Sales and Marketing Operations -
2023.05.25
Interactive Solutions Co., Ltd. (Headquarters: Chiyoda-ku, Tokyo; CEO: Kiyoshi Sekine) is thrilled to announce the launch of an advanced feature that revolutionizes the way seminar videos are utilized in sales and marketing operations. Starting from June 8th, 2023, we will offer an automated extraction and generation system powered by AI, capable of identifying key discussion points and generating Q&A content from seminar videos and lecture videos. The generated content can significantly reduce the extensive production time and costs traditionally spent on creating marketing and training materials, allowing for the rapid delivery of up-to-date topics to sales and marketing teams. This groundbreaking technology seamlessly integrates with the speech dialog app "iRolePlay" to enable immediate sales training.
Addressing the following challenges
Need for fresh up-to-date information for sales activi
Preparation of impactful opening talks
Summarizing and understanding the content of conducted lectures for swift deployment to sales teams nationwide
Immediate application of topics discussed in conferences and sponsored seminars to overall sales activities
Prompt sharing of medical-related news and company-related literatures with sales teams to facilitate sales efforts
Web seminars and online lectures have become increasingly prevalent. From a marketing standpoint, it is ideal for sales representatives to quickly understand the content of sponsored presentations and effectively communicate that information to clients.
Achievements and Results
To ensure accurate and effective communication of seminar content during sales activities, it is necessary not only to receive information (input) but also to engage in output-oriented training, such as role-playing exercises. Speech learning through role-playing exercises can improve understanding by up to 64%*. However, the creation of talk examples (combinations of questions and responses) required substantial effort. This feature dramatically reduces the production time of such examples (up to 95%) while accelerating information sharing activities in sales departments.
(*Verified by our research presented at the 2022 Information Processing Society of Japan Collaboration and Learning Environment (CLE) Study Group)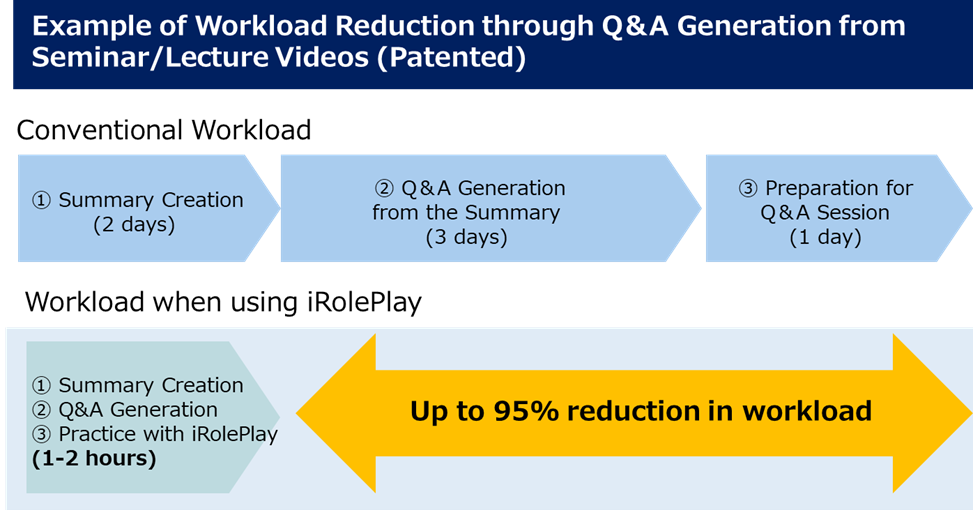 Highly accurate automated generation of video summaries and Q&A (Patented)
Through the application of natural language processing and AI models such as ChatGPT, we have achieved the automatic generation of concise and accurate summaries and Q&A transcripts with high precision (*Patented). This feature also addresses the extraction of specialized terms, which was challenging for conventional video summarization services. Marketing professionals can now focus on reviewing, refining, and aligning the generated summaries and Q&A transcripts with their sales strategies. The created Q&A transcripts are automatically integrated with the speech dialog app "iRolePlay," enabling sales representatives to commence conversation training on the same day.
(*Patents: 7271019, 7049731)
【Regarding Corporate Use of ChatGPT】
To ensure security, companies can choose between opt-out use of ChatGPT or utilization of "Azure Open AI service" in accordance with their own policies.
Benefits for learners and marketing departments
【Learners' Benefits】
By reading the summarized content, inputting the latest information, and immediately conducting output-oriented conversation training through "iRolePlay," learners can apply their knowledge to sales activities on the same day. Our research has demonstrated that learning through speaking, where learners listen to actual audio and practice conversations, is 64% more effective than text-based learning. (*Presented at the 2022 Information Processing Society of Japan Collaboration and Learning Environment (CLE) Study Group)
【Marketing Departments' Benefits】
By leveraging AI, it is possible to minimize human resources. For example, the process of creating Q&A transcripts, which used to take 1-2 weeks after the conclusion of seminars and lectures, can now be completed in just 1-2 hours. When combined with iRolePlay's speech training, this enables groundbreaking sales activities that deliver the latest information desired by customers.
Diagram: Workflow of AI Processing (Example from Video Recording to Training Initiation)